Wolfpack - Allday Hell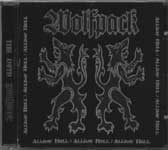 $13.00 -
In Stock
Crimes Against Humanity - 2001
Ultra-intense Swedish Crust, with more than a little Motorhead influence!
This is the official US release of this album, and includes two bonus tracks. One of which is from their split 7-inch Audio Kollaps, and the other is previously unreleased!

This is the true Wolfpack, and is now known as Wolfbrigade.