Sigh - Imaginary Sonicscape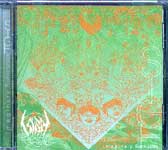 $13.00
Currently Unavailable
Century Media - 2001
This is far from their Black Metal origins, and a completely original, unique style that takes musical elements from the '60s, '70s and '80s, and combines them with their more sinister, intense roots, to create music that can only be described as "Sigh."
You're just going to have to check this one out for yourself!

"...utterly insane, yet also uniquely compelling" -Kerrang!