Ill Literature - #21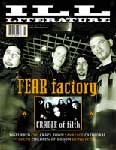 $7.00 -
In Stock
Self Released - 2001
One of the best Metal mags in the world!
Over 100 all glossy pages, most in full color!
Featuring hundreds of reviews, and interviews with: Avernus, Carnal Forge, Catastrophic, Cathedral, Children of Bodom, COC, Cradle of Filth, Crazy Town, Cryptopsy, Disturbed, Divine Empire, Downset, Dreams of Damnation, Dying Fetus, Electric Wizard, Exhumed, Fear Factory, Firebird, Gluecifer, Haste, Killswitch Engage, Living Sacrifice, Lizzy Borden, Ynqwie Malmsteen, Nonpoint, Novembers Doom, Opeth, Primal Fear, Rhapsody, Uli Jon Roth, Savatage, Sick of it All, Symphony X, Theory in Practice, UFO, and Zyklon. Plus a lot more!