Oskorei - #4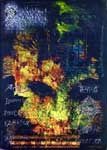 $7.00
Currently Unavailable
Oskorei
This excellent zine from Norway is easily one of the best in the world!
Featuring a full color cover, with all glossy pages throughout, a bunch of reviews, and interviews with Immortal, Artillery, Kampfar, Frozen Shadows, Power Symphony, Hate Eternal, Limbonic Art, Vintersorg, Varathron, Thyrane, Rebaelliun, Dead Silent Slumber, Myrkskog, Einherjer, Esoteric, Shadow Breed, and The Bleeding Light. Plus a lot more!
Also, every copy comes with a free compilation CD, featuring Einherjer, Thyrane, Forbidden Pleasures, Dweorgesblod, Al Sirat, Menzoberranzan, Abortus, Detonation, Buio Omega, Frozen Shadows, Nebular Mystic, Fall of Man, Dying Day, Embittered, Fallen Empire, and Nefarium.