No Glam Fags - #7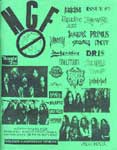 $7.00
Currently Unavailable
Self Released
The last issue of No Glam Fags, before it was renamed Ill Literature.
100 pages!
Featuring hundreds of reviews, and interviews with: Biohazard, Broken Hope, Brutal truth, Cancer, Damn the Machine, Dark Tranquillity, Deicide, Desultory, Disincarnate, Dismember, Dream Theater, D.R.I., Frontline Assembly, Gruntruck, Incantation, Kreator, Malhavoc, Master, Mercyful Fate, Mond Over Four, Willard, Monstrosity Paradise Lost, Phantasm, Primus, Pro-Pain, Pungent Stench, Seance, Skin chamber, Soulstorm, Stygian, Tiamat, Trouble, Uncle Slam, and Scorn.
Plus news, scene reports, and much more!