Ill Literature - #8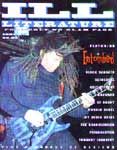 $7.00
Currently Unavailable
Self Released
Formerly called No Glam fags, this is the first issus as Ill Literature!
One of the best Metal magazines in the world!
Over 100 pages, in a full color, glossy cover!
Featuring hundreds of reviews, and interviews with: Agonize, Black Sabbath, Cathedral, Celtic Frost, Coroner, Crowbar, Entombed, Inverted, Invocator, Kataklysm, Life of Agony, Machine Head, Mindfunk, Morbid Angel, Morgoth, My Dying Bride, The Obsessed, Only Living Witness, The Organization, Pitch Shifter, Sam Black Church, Thought Industry, and Treponem Pal.