Ill Literature - #14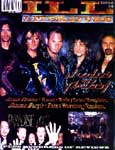 $7.00
Currently Unavailable
Self Released
One of the best Metal magazines in the world!
Over 130 pages, many in full color!
Featuring hundreds of reviews, and interviews with: Skinlab, Judas Priest, Septic Flesh, Lake of Tears, Megadeth, 16, Inferno, Emperor, Venom, Demoniac, W.A.S.P., Dimmu Borgir, Exodus, Dream Theater, Fates Warning, Paradise Lost, and Motley Crue.
Plus show reviews, scene reports, news, and a lot more!