Ill Literature - #15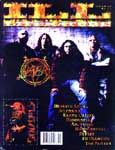 $7.00 -
In Stock
Self Released
One of the best Metal magazines in the world!
Over 100 glossy pages, many in full color!
Featuring hundreds of reviews, and interviews with: Anthrax, Bal-Sagoth, Soulfly, Earth Crisis, Gardenian, Slayer, Crematory, Fu Manchu, Morbid Angel, Nocturnal Rites, Razor, Strife, Jag Panzer, Sadus, Arcturus, Moonspell, Hammerfall, and Sepultura.
Plus scene reports, news, and a lot more!