Ill Literature - #17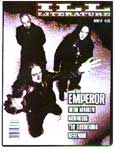 $7.00 -
In Stock
Self Released
One of the best Metal mags in the world!
Over 80 all glossy pages, many in full color!
Featuring hundreds of reviews, and interviews with: The Crown, Iron Savior, Elysian Fields, The Hellacopters, Vader, Pissing Razors, Meshuggah, Night In Gales, Sam Black Church, Helix, Royal Hunt, Malevolent Creation, Hades, All, Usurper, Into the Abyss, Gehenna, Nevermore, and Neurosis. Plus a lot more!