Air in the Paragraph Line - #8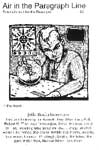 $7.00 -
In Stock
Self Released
"Entertainment for the deranged."
Fact and fiction by Jon Konrath, the author of Metal Curse's "Dear Death" advice column, and Ray Miller ("Everything I Learned, I learned from Venom"), Larry Falli, Robert W. "The Loser" Howington, Steve Johnson, and J.W. Fail.
Including an interview with Jello Biafra, and tales about life, death, drugs, alcohol, women, no money, depression, mania, evil music, Nuclear Winter and more...