Air in the Paragraph Line - #9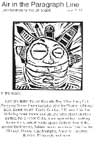 $7.00 -
In Stock
Self Released
"Entertainment for the Deranged."
Insane ramblings from Jon Konrath, the author of Metal Curse's Dear Death advice column, and his demented pals Ray Miller, Larry Falli, Greggory Moore, Laura Barcella, Jennifer Wagner, Chicago Basil, Derek Raugh, Daniel Crocker, SiD, and J.W. Fail.
Including dream journals, an interview with Inverted Bitch Fister, tales about drunken parties, the Chicago Cubs, a war against Iraq, walking home drunk, virtual reality, space stations, how to fly, useless legal advice, and Satanic music.