Metal Curse - 1 - 4 "Collected Edition"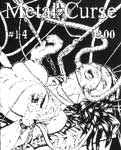 $7.00
Currently Unavailable
Cursed Productions
This includes all of Metal Curse issues 1 through 4, in their entirety, in a brand new layout and special size, along with extensive new commentary on each issue, introductions by Psycho Jon "Dear Death" Konrath, former Metal Curse contributor Larry Falli, and Ray Miller, along with a few surprises, and no ads. All inside an "adults only" wraparound cover by Bob Burns.
Includes vintage interviews from 1989 onward with: Aftermath, Terminal Grace, Drop Dead, Shades of Grey, Deceased, Neuro Toxin, Pestilence, Sepultura, Sadus, and Obituary.