Drawn and Quartered - Merciless Hammer of Lucifer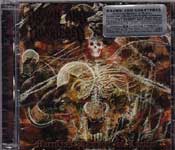 $13.00 -
In Stock
Moribund - 2007
Limited Edition version with bonus CD!

Brutal US Death Metal!
With bonus video clips for "Merciless Hammer of Lucifer," "Hail
Infernal Darkness" and "Orgiastic Feast of Excremental Blasphemy (Perversion
Glorified)."

Bonus CD features tracks from a canceled split 7-inch, an unreleased track from the Extermination Revelry sessions and the infamous 2002 Crusaders of Blasphemy EP!