Christ Denied - Drink... Drink the Blood!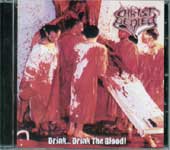 $13.00 -
In Stock
Goregiastic - 2004
Super intense Death Metal from Avulsed's main man, Dave Rotten!
Featuring the band's tracks from the 2000 split with Bastard Saints, the 2000 split with Aborted, the 1995 split with Haemorrhage, and a previously unreleased cover of Infernal Majesty's "Overlord"!