Anarchus - Increasing the Hate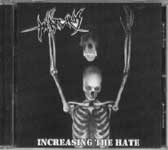 $13.00 -
In Stock
Half-Life - 2002
A collection of rare, demo, and previously unreleased tracks from this super-intense Mexican Grind band!

Featuring:
Quarreling EP (1996)
Never Ending War demo (1996)
Pedigree split (with AK47) EP (1996)
In Partibus Infidelium EP (1994)
Split LP with Monastery (1993)
Grinding Syndicate compilation CD (1991)
500 Years of Infamy EP (1990)
Final Fall of the Gods EP (1990)
Plus several previously unreleased tracks!
Including Heresy and Bathory covers!