Various Artists - NoisyMotions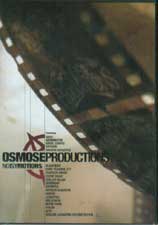 $17.00
Currently Unavailable
Osmose - 2004 - 150:00
Region 0
NTSC

An amazing compilation of video clips from Osmose bands, plus super rare live bonus footage!

Featuring:
Abominator - "Renegades of Hells Command"
Absu - "Fantasizing to the Third of the Pagan Visions," "Quoth the Sky Nevermore," "Act II," "Manan"
Antaeus - "Blood War III"
Arkhon Infaustus - "Whirlwind Journey"
Dark Tranquillity - "Hedon," "Zodijackyl Light"
Diabolos Rising - "Satanic Propaganda"
Divine:Decay - "Divine Decay," "Silence of Decades"
Driller Killer - "From Out of Nowhere"
Gehennah - "Decibels Rebel"
Immortal - "Blashyrkh (Mighty Ravendark)," "Grim and Frostbitten Kingdom"
Impaled Nazarene - "1999: Karmageddon Warriors," "Armageddon Death Squad," "Cogito Ergo Sum," "Hardboiled and Still Hellbound," "Penis et Circes," "When All Golden Turned to Shit"
Loudpipes - "Down Hill Blues," "Morphin Trip"
Melechesh - "Genies, Sorcerers and Mesopotamian Nights"
Notre Dame - "Booffon Bloody Booffon," "Scarecrows," "Spiderella's XXX"
Phazm - "Loneliness"
Seth - "Die Weihe"

Live bonus videos:
Blasphemy - "Ritual," "Blasphemy"
Sublime Cadaveric Decomposition - "XX . 06 . 01," "XX . 04 . 02," "XX . 07 . 01"
Immortal - "Unsilent Storms in the North Abyss," "The Call of the Wintermoon," "A Sign for the Norse Hordes to Ride," "The Sun No Longer Rises," "Unholy Forces of Evil," "Pure Holocaust"
Inhume - "Blood," "Process to Decelerate," "Orgy at 7th Street"
Angel Corpse - "Christhammer"