Rotting Christ - Passage to Arcturo + 3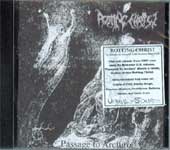 $13.00 -
In Stock
Unruly Sounds - 2006
Official 15th anniversary reissue of the Greek Black Metal masters' debut album, originally released in 1991.
Truly an eternal classic, and one of the greatest Black Metal recordings of all time.

Featuring two bonus tracks from 1991's Dawn of the Iconoclast 7-inch, which appear on CD here for the first time ever!
Plus one additional bonus track, "Feast of the Grand Whore," from the 1989 demo Satanas Tedeum!