Catasexual Urge Motivation - Nekronicle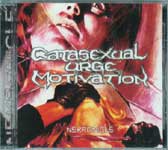 $13.00
Currently Unavailable
Razorback - 2003
Legendary Japanese Gore/Grind!

Featuring the following:
Catharsis demo (1994)
Rape Trauma Syndrome demo (1995)
Necrophallus split 7" with Squash Bowels (1996)
Ritual Rape Mutilation split 7" with Slough (1996)
Demo #2 split tape with Goropsy (1996)
Hungry Urinary Urn 4-band split 7" (1997)
Extremist Records Compilation Vol. 2 track (1997)
Shadows of Michelangelo Magazine Compilation track (1997)
Ecocentric records Comp. CD "Rudi Rat" vol.6 double CD track (1997)
Plus unreleased tracks and more...