Napalm Death - Leaders Not Followers: Part 2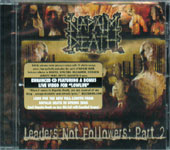 $13.00 -
In Stock
Century Media - 2004
More cover songs from the Grind legends, Napalm Death!
Featuring blsitering covers of Cryptic Slaughter, The Defenders, Devastation, Hellhammer, Anticimex (x2), Wehrmacht, Discharge, Siege, Master, Insanity, Kreator, Massacre, Attitude Adjustment, Die Kreuzen, Sepultura, The Dayglo Abortions, Agnostic Front, and Hirax.
Plus a bonus live CD-ROM video for the Cryptic Slaughter cover "Lowlife"!