Exhumed - Platters of Splatter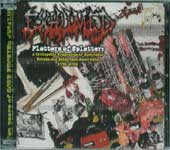 $13.00
Currently Unavailable
Relapse - 2004
2-CD set!

Awesome compilation of rare and previously unreleased tracks from this sick US Death / Gore band!
Featuring all the tracks from the following:
In the Name of Gore split CD (with Hemdale)
Four non-US tracks from the Japanese version of Slaughtercult
Split 7" with Sanity's Dawn
Totally Fucking Dead split 7" with Nyctophobic
Tales of the Exhumed split 7" with Retaliation
Indignities to the Dead split 7" with Pantalones Abajo Merenero
Instruments of Hell split 7" with No Comply
Blood and Alcohol split 7" with Pale Existence
The track from the Tribute to King Diamond compilation
Chords of Chaos four-way split CD with Ear Bleeding Disorder, Necrose, and Excreted Alive
Horrific Expulsion of Gore demo
Grotesque Putrefied Brains demo
Excreting Innards 7"
Dissecting the Caseated Omentum demo

...which include Possessed, Sarcofago, Carcass, Impetigo, and King Diamond covers.