Fleshart / Harmony Dies - Derangement (split)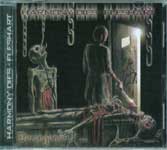 $15.00 -
In Stock
Obliteration - 2003
Brtual Grind / Death Metal team up.
Fleshart hails from Greece, and delivers two new songs, one re-recording of a dmeo track, and a cover of Mortician's "Zonbie Apocalypse"!

Germany's Harmony Dies contributes one new song, an amazing cover of the Death classic "Defensive Personalities," and three live tracks!

Japanese import.