Anarchus / CSSO - Split Live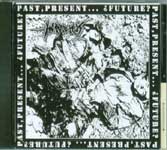 $15.00
Currently Unavailable
Obliteration - 2001
Extreme Grind team up!
Mexico's Anarchus turns in 13 intense tracks recorded live in Tampa, Florida, on May 21, 1990, plus four additional studio tracks from 2001.
Japan's legendary CSSO grinds through four live tracks from Shunjuju Antiknock, on March 6, 1999, and three more from Mexico City, on March 25th, 1999.

Comes with free CSSO sticker!