Bestial Summoning - The Dark War Continues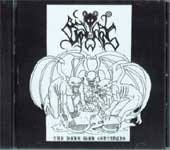 $13.00
Currently Unavailable
War Hammer
Super raw, Chaos Black Metal from this infamous early 1990s Holland band, finally reissued!

This CD features The Dark War has Begun album from 1992, the Venray OJC Dingus live 7-inch also from 1992, a rehearsal track from 1991, and the Sodomistic Rituals demo from 1991.

Limited edition of only 1000 copies!