Brutal Truth - Goodbye Cruel World!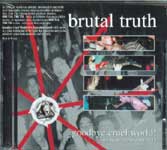 $13.00
Currently Unavailable
Relapse - 1999
Two disc set!
The final release from this influential Grind band, this 2-CD set features an amazing live recording, and the entire second disc is devoted to rarities, including 7-inch tracks, previously unavaible songs, and covers of SOB, The Germs, Black Sabbath, YDI, Agathocles, The Melvins, Nausea, MDC, Boredoms, Celtic Frost, and Sun Ra.
A worthy farewell for this groundbreaking band.