Black Uniforms - Splatter Punx on Acid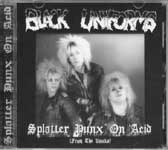 $13.00
Currently Unavailable
Hardcore Holocaust - 2002
"A lethal dose of Hardcore horrors from the vaults!!"

Classic Swedish Hardcore / Punk, with members of Moderat Likvidation, Anti Cimex, The Perukers, and Driller Killer!

This is a compilation of the band's Back from the Grave (1986) and Horror Holocaust (1987) demos, plus many rare and previously unreleased tracks, and most of the songs from the Faces of Death" album (1989).

24 tracks in about 74 minutes!