Therion - Deggial + 1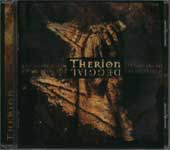 $15.00
Currently Unavailable
Irond - 2001
Russian import, officially licensed from Nuclear Blast.
Features Russia-only bonus track, "Polar Nights."

This album is an amazing combination of Classical music and several types of Metal, with riffs along the lines of old Accept or Scorpions mixing seamlessly with more sinister guitar-work in the tradition of Voivod and Celtic Frost, all held together by the strong influence of the greatest operas.
No synthesizers were used in the recording of Deggial. All the classical instruments are authentic, with 27 musicians in all, including a full choir, a tenor, strings, brass and woodwinds!