Sathanas / Bathym - Jaws of Satan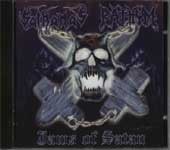 $15.00
Currently Unavailable
From Beyond - 2002
Sharing some band members, Sathanas and Bathym were among the first US Black Metal bands to appear in the late '80s.
This CD features Sathanas's first demo, Ripping Evil, and three live tracks from 1988, including a cover of the (true) Slaughter classic "Nocturnal Hell."
Plus Bathym's debut demo, Into Darkness, three rehearsal tracks from 1990, and the two cuts from the band's Demonic Force 7-inch.