Murder Corporation - Tagged & Bagged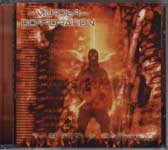 $15.00 -
In Stock
Displeased - 2001
The third full-length CD of brutal, crusty Death Metal featuring Deranged members Wermen, Johan and Anderberg.
Murder Corporation continues their reign of destruction, aggression, and murder!
Featuring a great cover of Nuclear Assault's "Survive," and a really cool multimedia section with videos, a ton of band information, an axe murder game, and a lot more...
Import version.