Various Artists - Requiems of Revulsion - A Tribute to Carcass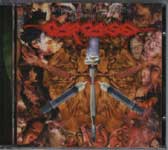 $15.00 -
In Stock
Displeased - 2002
An awesome tribute to the pathological Gore Grind masters, Carcass!
Featuring the sick talents of Regurgitate, Rotten Sound, Haemorrhage, Nasum, Cattle Decapitation, Exhumed, Disgorge, Machetazo, General Surgery, Necrony, Impaled, Pig Distroyer, Vulgar Pigeons, Bodies Lay Broken, Engorged, Dead Infection, and Avulsed.
Most of the tracks are exclusive to this release!
Import version.